949 – Beautiful Downtown Pub – $289,000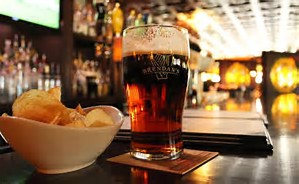 CLICK HERE TO DOWNLOAD INFORMATION SHEET

This is a beautiful pub with a high level of finishing throughout. Great ambiance with a rich, comfortable feeling from the carved wood and other décor items. Features a long bar. Comes with a full kitchen. The pub has access to three large office towers. Lots of regulars, particularly from the courthouse and land titles buildings. Could increase sales with longer hours and being open on the weekends. Don't miss this well-established facility!
Sales: Gross sales: $185,000 per year
Size in sq. ft. 3,691 sq. ft.
No. of Seats: 100 plus 20 on patio
Number of parking stalls: One at $365 per month
Financing: Treat as clear title
Style of cuisine: Casual dining
Customer Demographics: Business people; courthouse staff; regulars
Type of service: Table
Hours of operation:
8 am – 6 pm;  5 days a week
Number of employees: 6 – 8– mixed full-time and part-time
Leasing information:
Rate per sq. ft. Gross monthly rent approx. $9,500 – $9,600 which includes rent, CAM, Utilities, Janitorial and GST.
C.A.M. Included in above monthly amount
Lease Term: November 30, 2018             Option periods: One 5-year option
Deposit held by Lessor: To be confirmed

Print This Listing