# 661 Five Condo Bays Presently Used for Food Mfg. – $1,369,000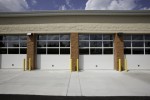 CLICK HERE TO DOWNLOAD INFORMATION SHEET

What a great opportunity to own 5 condo bays presently being used for food manufacturing. There's lots of room for prep, refrigeration and freezer space to set up your own food manufacturing business. The location is excellent for downtown catering and it's close to major arteries and the airport. The use of the condos could be changed to any concept a new owner chooses. Great price for a facility as well-equipped and conveniently located as this! Please note that any additional moveable equipment may be purchased separately. The owner will also consider an option to lease.
Please note that property is not exactly as illustrated in this photo.
Size in sq. ft. 5,000 sq. ft. of floorspace plus 1,000 sq. ft. of mezzanine space
 Number of parking stalls: Lots
Financing: Treat as clear titleCondo Fees:$237 per bay, per month
Property Taxes: $150 per bay, per month
Leasing information:
Vendor willing to consider a lease at fair market value and retain ownership to the
real estate.

Print This Listing