1085 – Taco Time Franchise – $120,000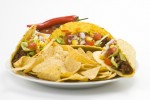 CLICK HERE TO DOWNLOAD INFORMATION SHEET

This is a Taco Time franchise which is ideal for an owner/operator. The business presently has an absentee owner.  It's located in a busy town just south of Calgary with lots of drive-by traffic, in addition to locals in surrounding condos and businesses.  
Sales: Gross sales: $200,000 per year in 2020; estimated $225,000 for 2021
Size in sq. ft. 1,000 sq. ft.
No. of Seats: 25
Number of parking stalls: First-come, first-served basis in shopping center lot
Financing: Treat as clear title
Style of cuisine: Taco Time full franchise menu
Customer Demographics: Wide range of ages;  locals from surrounding neighborhoods
Type of service: Counter
Hours of operation:
Monday – Friday 11 am – 9 pm
Saturday and Sunday 11 am – 8 pm
Number of employees: 1 manager and 2 part-time
Leasing information:
Rate per sq. ft. Gross monthly rent approx. $3,167,67 which includes rent, CAM and GST. Plus, management fee of $158.33 per month.
C.A.M. Included in above monthly amount
Lease Term: Goes to 2025            Option periods: One 5-year option to 2030 at $3333.32 per month
Deposit held by Lessor: 1 month

Print This Listing