# 1063 – Well-Known Diner $149,900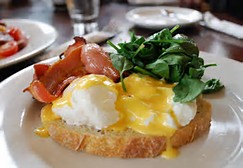 CLICK HERE TO DOWNLOAD INFORMATION SHEET

    This diner is an icon in Calgary. It has always rated in the top 3 in the City. Once Covid is over, this diner will be overflowing with business once again. A new lease will be negotiated with the Landlord who has appreciated having this restaurant as a Tenant for a long time.
Sales: Gross sales: Prior to covid, sales for 2019 were $2.3M
Size in sq. ft.  4,500 sq. ft.
No. of Seats: 176
Number of parking stalls:  Lots of parking
Financing: Treat as clear title
Style of cuisine:  Full diner menu; all day breakfast
Customer Demographics:  Lots of regulars
Type of service: Table
Hours of operation:
A new owner can decide the hours of operation
Number of employees: 40 – mixed full-time and part-time
Leasing information:
Rate per sq. ft. $14,000 per month plus utilities
C.A.M. Included in above monthly amount
Lease Term:  Expires in July 2021. Will be re-negotiated with Landlord.         Option periods: Yes
Deposit held by Lessor:  To be verified

Print This Listing