1015 – Upscale Diner – $469,000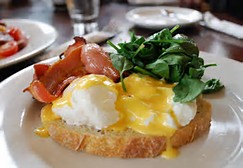 CLICK HERE TO DOWNLOAD INFORMATION SHEET

     This is an upscale diner in a great location surrounded by retail, offices and industrial warehouses. Lots of traffic by the door. The name will be sold with the business as a clientele has been built up since it opened. There's potential for a 20 – 30 seat patio on the east side (Landlord has given OK – just needs City approval). Please note that 30% of the offerings are gluten-free. The groundwork has been done on this delightful diner so it's all ready for the energy of a new owner! Great hours – be home in time for dinner!
Sales: Gross sales:  $1.2M in sales projected for 2019
Size in sq. ft. 2,700 sq. ft.
No. of Seats: 90
Number of parking stalls: Lots of parking in large paved lot
Financing: Treat as clear title
Style of cuisine: Casual dining; diner menu
Customer Demographics: Wide range of ages; business people; shoppers; industrial workers
Type of service: Table
Hours of operation:
7 am – 3 pm; 7 days a week
Number of employees: 14 plus owner  – mixed full-time and part-time
Leasing information:
Rate per sq. ft.  $8,773 per month – fixed for 10 years – for rent, CAM & GST
C.A.M. Included in above monthly amount
Lease Term: 8.5 years left  of a 10-year term           Option periods: One 5-year option
Deposit held by Lessor: To be verified

Print This Listing