1009 – Diner in Popular Neighborhood – REDUCED TO $199,000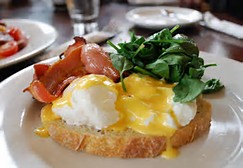 CLICK HERE TO DOWNLOAD INFORMATION SHEET

This is a newly constructed diner in the heart of a busy and popular neighborhood. The demographics are upwardly mobile, trendy professionals who love to patronize their own community. Fully equipped with all new kitchen, premises, washrooms etc. Please note that the dough sheeter is excluded. Great opportunity for someone who wishes to get into the diner business in a perfect location!
Sales: Gross sales: $40,000 per month on average
Size in sq. ft. 2,507 sq. ft.
No. of Seats: Licensed for 60; actual 72
Number of parking stalls: Two at $150 each per month
Financing: Treat as clear title
Style of cuisine: Casual dining; breakfast and lunch
Customer Demographics: Wide range of ages; business people; locals; lots of regulars
Type of service: Table
Hours of operation:
7 am – 6 pm; seven days a week
Number of employees: 9 – with 2 owners and 7 part-time
Leasing information:
Rate per sq. ft. $30 per sq. ft. starting March 1, 2019 for 1 year
C.A.M. $4,185.11 including utilities
Lease Term: 3.5 years left
Option periods: Two 5-year options at fair market value after the present 10-year lease is completed
Deposit held by Lessor: 1 month (to be verified)

Print This Listing